On Saturday, the 19th of November 2016, over a hundred-people braved Metro Manila's heavy traffic to join the 2nd Dance for Justice annual fundraising event of the Justice Cecilia Muñoz Palma Foundation, Inc. (JCMPFI).
The event, co-sponsored by LDB Construction, Inc. and Mr. Jose L. Acuzar of the New San Jose Builders, Inc., was held at the Club Filipino in Greenhills, San Juan.  Funds raised from the event shall be used in the construction of the Justice Palma Museum, which is scheduled to open in 2017. This occasion also celebrates the 103rd birth anniversary of the late Justice Cecilia Muñoz Palma on November 22.
JCMPFI board member, Ms. Grace Palma Tiongco, opened the evening's activity and ably led the program as event emcee, while Dr. Florangel Braid, the JCMPFI Vice-Chairperson, welcomed friends, partners, special guests, and sponsors in her opening talk.
Among those who came were: Chairperson, Dr. Mina Gabor; Treasurer, Corazon Alma De Leon; and, members — Pearl Cardema, Tadeo Palma, Dr. Carmencita Reodica, and Executive Director Emily Palma. Former Board of Trustees: Lulu Tesoro Castañeda and Concepcion "Nonie" Basilio also graced the occasion with their presence.
After the opening remarks,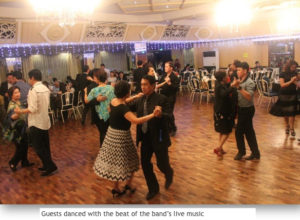 the Rule Band stayed true to their name — they flooded the dance floor with beautiful music that made it a joy to dance the night away. There was never a dull moment as highlighted by the group dancing of the L.A. walk. It was a cozy evening that elicited laughter and a convivial atmosphere until the music stopped at midnight.
Forty early registrants received loot bags containing assorted snack items from the Quezon City Experience/Museum (QCX), a project of the Office of Vice Mayor Joy Belmonte and GlobalPro Multi-Purpose Cooperative, but they weren't the only ones who were treated to an early Christmas gift. Thirty-two lucky guests took home raffle gift packs and certificates, which inclu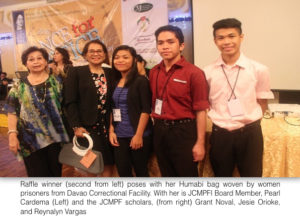 de products from 3J Plasticworld Manufacturing Corporation, Mary Grace Foods, Inc., Gardenia Bakeries Philippines, Mont Albo Massage Hut, and Humabi Bags.
The evening would not have been complete without our partners and sponsors who courteously came to our gathering: Sisters Celine Saplala and Andrea Ecito, OSB of St. Scholastica College; Noel Jomadiao, Felicitas Victoriano, Charlie Marquez, and Jhay Tuazon of Justice Cecilia Muñoz Palma High School; and Angelito Paolo Lukban of GlobalPro Multi-Purpose Cooperative.
Guests and supporters who came to the event did not go home without getting updates from JCMPFI's works and achievements. And as way to thank them, JCMPFI, distributed its 7-year Accomplishment Report from 2008 to 2015. The production of the report was co-sponsored by the Philippine Charity Sweepstakes Office (PCSO).
All-in-all, it was a happy occasion, but it wasn't just all fun and laughter; it was a memorable night that celebrated the life of the late Justice Cecilia Muñoz Palma — one that ignites passion for freedom and democracy, which Justice Palma, and other freedom-loving people during her time, sought to build with integrity, service, love of God, and education.
The Justice Palma Museum shall be an institution devoted to the ideals and values of a cherished and respectable Filipino woman who sought to build a just and loving society for us and the future generations to come.
For those who would like to become part of this endeavor, you may visit our website at http://www.justicepalmafoundation.org.ph/how-to-donate/.
Published 11/28/16.
A Dance to the Life & Ideals of Justice Cecilia Muñoz Palma