KIDS AND TEENS COURT AWARENESS PROGRAM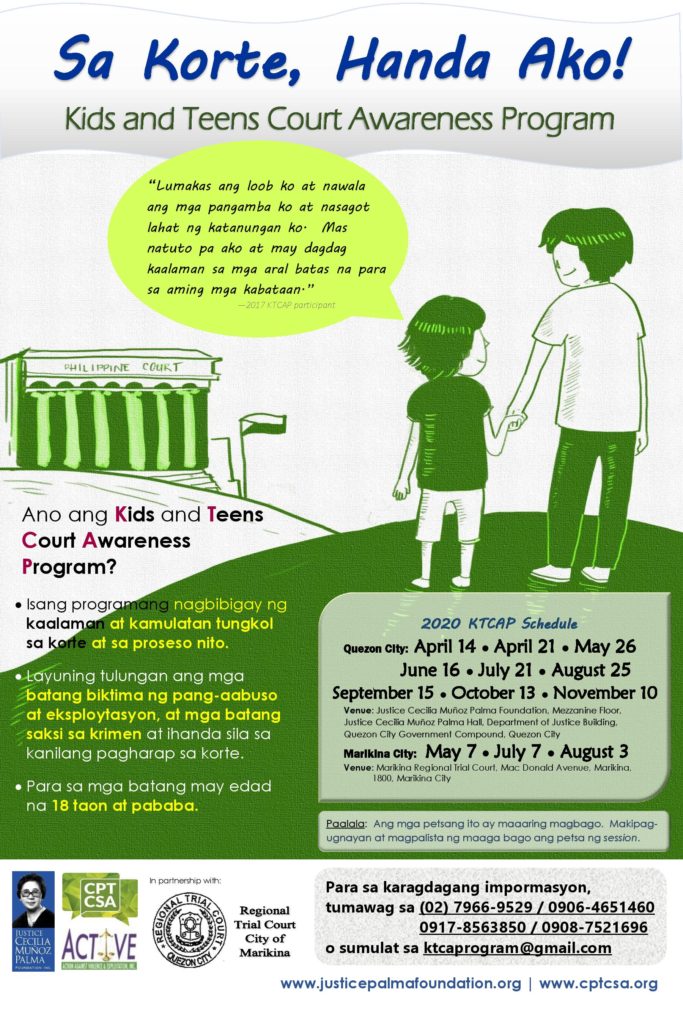 With the yearly rise in child abuse cases in the Philippines alongside the current pace in our justice system, only a few cases have reached conviction or not even reported at all. Seemingly, it is combined with incidents of child victims or witnesses crying in fear at testifying inside the courts and against the perpetrator, which results to a prolonged and delayed legal process. The Kids and Teens Court Awareness Program (KTCAP) hopes to respond and help bring about a lasting solution to this persistent societal problem.
KTCAP strives to reduce children's fear of the court through court awareness education. By providing the children with experience of the court and the knowledge about the court, the justice system, and their role in the court process, children gain confidence and their fears lessened when they finally take the stand, as witnesses in the court. Moreover, it will also help children realize the importance of reporting and filing child abuse cases.

KTCAP is a one-day basic court orientation and court desensitization session consisting of a lecture-discussion and a court exposure trip to a Family Court.
The morning session is a lecture-discussion about the court processes, court personnel, and the children's role in the court. The afternoon activity is an exposure trip to a Family Court wherein participants experience to enter a courtroom; familiarize themselves with the court's physical set-up, and personally get to know the Judge and other court personnel. During the court visits, the Presiding Judge, act as resource persons for children. The court visit also allows children to interact with the Judge and the court staff.
LEGAL FORUM



The Justice Palma Foundation keeps alive Justice Palma's unwavering advocacy of ensuring widespread access to and knowledge of justice among all Filipinos. In collaboration with its partners, the Foundation conducts a legal forum as a means of promoting and improving the legal knowledge of those in the profession, the academe, and the general public. The forums cover pressing issues of national concern as well as global significance.
The Foundation, to date, has staged three legal fora – "Party-list System: Retain, Amend, or Abolish?" in 2010, "When Clicking Hurts: A Forum on Cybercrime Against Women and Children" in 2012, and the most recent, "Is Climate Justice a Human Right?" in 2015.